On Saturday 4 April 2015, the Indonesia Nederland Youth Society (INYS) was officially launched in Indonesia after the establishment of INYS in the Netherlands in October 2013. The INYS is a youth-led organization which aims to better connect young Dutch and Indonesians and to increase Indonesia-related opportunities.
The official launch of the INYS in Indonesia was hosted by the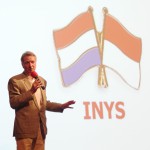 Erasmushuis, the Dutch Cultural Center at the compound of the Dutch Embassy in Jakarta. The event was  kicked-off by an opening speech of  Rennie Roos, Founder of the INYS, followed by Jaya Setiawan Gulo  as the new appointed Chairman of  INYS in Indonesia. As a symbolic gesture,  both Nico Schermers, Head of the political department of the Embassy of the Kingdom of the Netherlands to the Republic of Indonesia and E. Riris Wusananingdyah, Deputy Director for West European Affairs at the Ministry of Foreign Affairs of Republic of Indonesia were invited to the  stage to give  a welcoming speech and beat the gong to officially launch the INYS in Indonesia. The Ambassador of the Kingdom of the Netherlands, Rob Swartbol, also attended the launch event.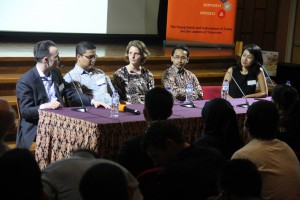 After the official opening, the program contained two sessions concerning two main focus points of INYS ,'Education' and 'Young Professionals'. Several speakers including Dr. I Kadek Dian Sutrisna Artha (Universitas Indonesia), Mervin Bakker (Nuffic Neso Indonesia) and the authors of the Negeri Van Oranje novel shared their experiences and knowledge about education in Indonesia and The Netherlands. In the last session of the day, young professionals Irwin Sjafrir (Garuda Indonesia), Willemijn de Raadt (Witteveen en Bos), Wibawa Jati Kusuma (Royal Philips), Florian Heinzelmann (SHAU Architecture and Urbanism) and Mira Sumanti (Google Indonesia),  shared their stories and inspired young Dutch and Indonesians with their presentations.
The whole launch was prettified by , performances from the Peaz Makerz Foundation, Aditya Elman, Dyah Purwitasari, and O.D.D.S, who entertained the guests with their dance and songs. Another highlight was the raise the flag quiz which  brought a cheerful atmosphere  and blended  the 295 young Dutch and Indonesians who attended the event.
The establishment of INYS in Indonesia is the first step to reach its goal to better connect young Dutch and Indonesians to each other and to Indonesia-related opportunities.